I thought it would be a nice segue from my last post on the True Range of the Flute to a work that, great as it is, has serious issues regarding range. Composers, if you have overstepped the bounds of the flute's range, you are in good company.
Gyorgi Ligeti is just about my favorite composer. However, the fourth movement of his Hamburg Concerto poses serious problems. The first flute, playing flute, not piccolo, has to contend with this, at tempo dotted-quarter = 120: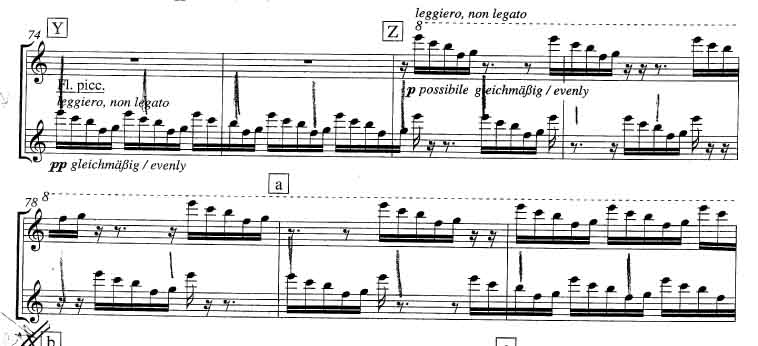 I have heard this played on flute, the 1st player just ignoring the octave indication. If I'm not mistaken, this was the solution on the recording that was made with Ligeti. I did not work with Ligeti on this piece, but have played under conductors who have experience with the piece. What I did was play this passage on piccolo, but that poses another problem later on since there is no time to change back to flute. Our solution was this: 1st player plays piccolo until "l", leaving out low D-flats and E-flats (they are doubled anyway). Have the 2nd flute play "l" through "m" while 1st changes to flute, then 1st resumes playing at "m".
Earlier on in this movement, the 1st player has the following passage. The Notes after "V" are possible, but when played on flute, it throws the dynamic balance of the ensemble totally off: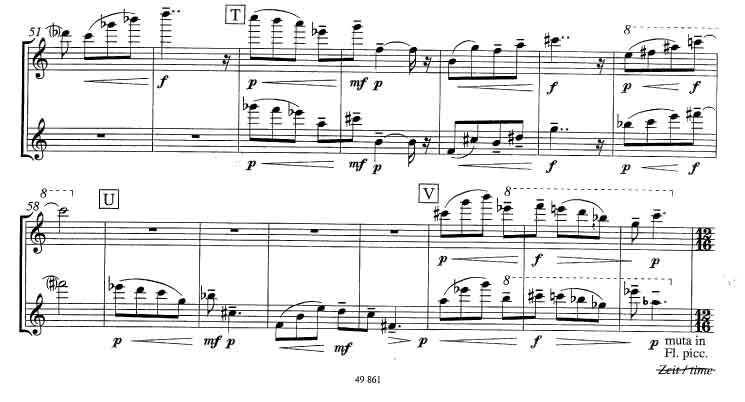 I solved it by changing to piccolo at "U". The last time I played it, I thought "what the hey", and just played from the beginning of the movement on piccolo (transposing the written part down an octave, of course). It makes for better dynamics at "T" (not that it is impossible on flute). The only note you have to leave out is the B in the third bar of "T". I don't present this as an authentic or brilliant solution, it was just a whim and the conductor went with it.
I hope this helps future flutists working on this cool piece (including myself, just so I remember what we did)! If you know of other solutions, I am all ears.